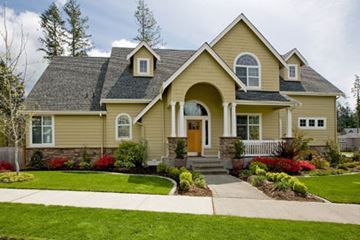 There is good reason why you want to increase your home's value and improve its curb appeal - that's simply because when you put it in the market, it'll command a higher price and will take minimum time to find a buyer. But the thing with this kind of DIY home improvement job is that most homeowners believe it is difficult and expensive to carry out. That right there is a misconception. There are actually very convenient and cheap way to do it and still you will realize you've actually done a lot to give your property a fresh look. First thing you need to do is focus on upkeep and maintenance. You can't simply think about doing improvements on how your home appears in the eyes of potential buyers without even fixing what needs to be fixed. Good thing the website ThisOldHouse.com provides some of the most important upkeep ideas to improve curb appeal.
Seize the Season Remember all those outdoor fixup projects you put off last winter, waiting for the warm summer months? Well, summer's here and it's time to think about getting some repairs in while the temperatures are still agreeable. Keeping your home in tip-top shape not only adds to its curb appeal but it saves you money as you ward off more expensive fixes down the road. But look at it this way: Spend a couple of weekends outside, basking in the beautiful weather, and make sure your home looks fantastic while you can still enjoy its charms. Soon enough, it will be time to pack it up and head inside. Let the sunshine in One of the simplest but most satisfying fixups you can do is to make your windows sparkle and shine, letting in clear summer light. Fix Up the Front Door Your front entry is your home's ambassador, signaling to guests if you are friend or foe. If yours is more "War is hell" than "Good to see you, ally," perhaps you need to spruce things up a bit to make it more welcoming. See some more of this post's tips through this link.
Sadly, a lot of homeowners neglect those three simple upkeep jobs, even though they're very simple to do. Don't ever make the mistake of looking at the more complex projects and forgetting about the little but important ones.
Now for enhancing the exterior features of your home,
Popular Mechanics
gives us some common improvement projects you can do without the need of a professional or a contractor. See them below:
Install Lights Along the Sidewalk Lights that lead to your entryway welcome guests after dusk while also increasing their safety. Soft exterior lighting also makes your home appear more inviting and friendly, and it can emphasize landscaping and any other features you want to call out to anyone approaching your front door. Plus, the lights improve security by reducing dark spots near your house. Solar lights are perfect for sidewalks and paths since they don't require running electrical cable or the use of extension cords, don't use any electricity from the house, and are easy to install—you just stick them in the ground. They provide a pleasant ambiance that's not too bright. Most solar lights have a run time of at least 6 hours. Plant Flowers Flowers along the sidewalk, in front of the house, inside flower boxes, pouring out of hanging baskets, or even in berms and raised garden beds provide a giant boost to your curb appeal. Planting flowers is one of the easiest, most cost-effective ways to make a big impact. Get recommendations from your local nursery on what plants and flowers thrive in your area. Just because a neighborhood garden center sells particular plants doesn't mean they're a good fit for your region. Sticking with perennials will eliminate the need to buy and plant new flowers every year. Article source: http://www.popularmechanics.com/home/outdoor-projects/how-to/g645/10-ways-to-improve-your-homes-curb-appeal/
Lights become the highlight of your home at night. No one's really going to appreciate a home that's so dark and almost invisible at night. But don't overdo it because when lights are too bright, the home's nightly ambiance is destroyed. Likewise, flowers are no-brainer. One of the most effective means of improving your home's curb appeal is building an attractive garden in front of the property. Flowers are simply attractive and refreshing.
Similar posts can be viewed at: Window Treatments